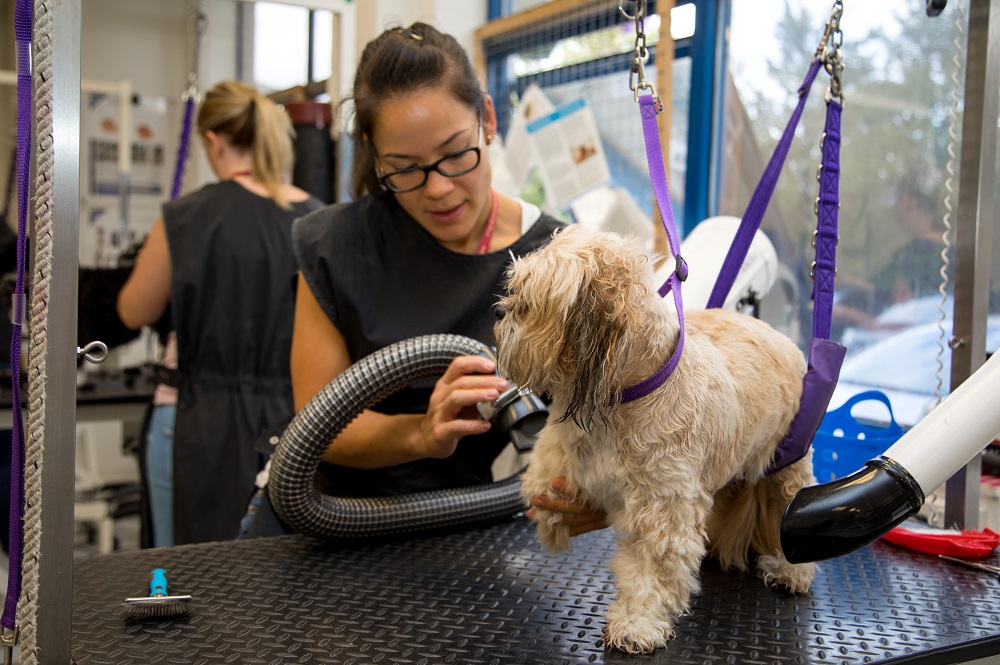 If you're working as a dog groomer and looking for a career change, why not consider taking your skills and experience into a classroom?
Becoming a dog grooming teacher is a thoroughly rewarding and respected career choice for those looking to inspire others.
If you're wondering whether teaching could be the career move for you, take a look at what the job involves and how you can get qualified…
What is involved in being a Dog Grooming Teacher?
Dog Grooming teachers use their industry knowledge and expertise to help the next generation of groomers pass their formal qualifications. You could teach on behalf of training providers, or work in further education colleges or independent dog grooming parlours.
Your day-to-day responsibilities will include:
Delivering practical learning activities and assessments: You will teach students how to carry out basic health checks and identify parasites/signs of infection. As well as this, you will supervise students as they bath, dry and style dogs to 'breed standard' or customer specification.
Reviewing and assessing student work: You will be required to assess your student's practical work and provide guidance and advice on how to improve.
Providing individual student support: As a teacher, a big part of your role will involve shaping your teaching to cater to your students' individual strengths, weaknesses and learning styles. You will also need to be on hand to provide individual guidance and advice to students, whether that be face-to-face or by email.
Interviewing potential students and carrying out diagnostic tests: As dog grooming is a competitive field, you may be required to interview prospective students and assess their ability to join the programmes you deliver.
Developing new teaching materials: You could work with other members of the course team to come up with new, innovative teaching materials and methods to deliver course content.
Carrying out administrative work: Depending on your employer's individual policies, you may be required to undertake administrative tasks such as keeping attendance and progress records, or ordering resources for your lessons.
Taking part in meetings and events like open days: If you're working for a college or training provider, you may be required to attend open days and speak to prospective students about the programmes and dog grooming as a career.
Personal qualities
As a basis for teaching dog grooming, you need to hold all the qualities needed to pursue dog grooming as a career in its own right. This includes being comfortable handling dogs and able to take on the physical aspects of the role like lifting dogs up and off tables and into baths.
Beyond this, you need to be a confident speaker who is comfortable supervising others in the grooming salon. You also need to be able to inspire learners from a range of different backgrounds.
Becoming a Dog Grooming Teacher
Generally, dog grooming teachers need to be a qualified dog groomer (City & Guilds Level 3 Diploma in Dog Grooming), preferably holding a relevant teaching qualification such as the Level 3 Award in Education and Training.
In addition, whilst it is not essential, relevant teaching/training experience gained in a voluntary or work-shadowing capacity is useful. Experience of coaching or mentoring new team members would also be beneficial. You will also need a Disclosure and Barring Service (DBS) check before commencing work as a dog grooming teacher.
The most common misconception about becoming a dog grooming teacher is that you already have to have a teaching qualification in order to get into the role. Although this would be a distinct advantage, it is worth doing some research into potential employers and getting in touch, as some employers (including The College of Animal Welfare, inside Campus Vets and Pets) are willing to fund your teaching qualification and allow you to study alongside your job.
There are several places to look for job vacancies as a dog grooming teacher, including:
Local newspapers
Facebook groups such as English Groomers Group and Dog Grooming Vacancies and Opportunities UK
Progression
As you build up more experience, you could move into a senior teaching/managerial role, or even become head of department. There is also scope to become an assessor, examiner or verifier. Another option is to produce textbooks, learning materials and online resources.
Interested in becoming a Dog Grooming Teacher?
The College of Animal Welfare, inside Campus Vets and Pets, offer the opportunity for dog groomers interested in teaching to experience first-hand 'a day in the life of' by arranging shadow days. That way, you can see how the day develops from start to finish, see what the role involves and get more of an idea if it is for you. To find out more about shadowing a trainer at CAW, contact the college's HR team on 01480 422060.