Animal Rehoming
Could you give an animal in need a second chance of a loving and caring home?
There are so many animals looking for new homes across the UK and beyond, we believe these animals can make wonderful pets. Animals come in to rescue for a variety of reasons; some are found wondering the streets, some come in because of a change of circumstance of the owner such as ill health or allergies, some are not suited to a particular situation and some are, unfortunately, just no longer wanted.
Taking on a new pet is a huge and long term responsibility. Please make sure you are fully prepared before you make such an important decision.
We are looking forward to working closely with animal charities during the forthcoming year to help provide temporary accommodation for dogs and cats during the rehoming process.
Cats Protection
Our vision is a world where every cat is treated with kindness and an understanding of its needs
If you would like to rehome a cat please contact the Gildersome Homing Centre on 0300 0121 505.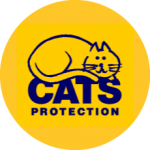 We are delighted that Cats Protection have chosen to use the facilities at Campus Vets and Pets to house cats during the admissions and assessment process to prepare them for homing. Once a cat arrives at the centre it is assessed by a vet, flea treated, microchipped and neutered (where necessary) and given any medical treatments. Once the cat is then ready to find their new home they are transported to the Gildersome Homing Centre. If you feel you can offer a cat a loving, permanent home please think about adopting through Cats Protection and contact the Gildersome Homing Centre below.
Gildersome Homing Centre
Gildersome Lane
Gildersome
Morley
Leeds
West Yorkshire
LS27 7BN
Tel: 0300 0121 505
Opening hours and contact form.