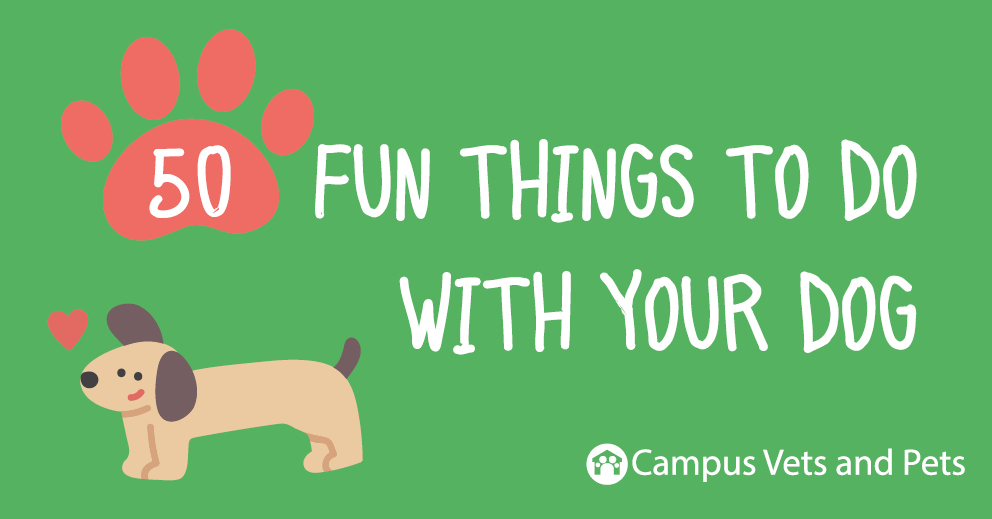 Looking for fun things to do with your dog? You've come to the right place!
If there's one thing for sure, it's that there's never a dull day when you have a dog in your life. But sometimes it's fun to try something new, and there are many ways you can enjoy time with your canine companion! Check out our list of 50 fun things to do with your dog…
1. Go on a walking tour of a city
One of the best ways to explore a new city is by foot, and a savvy guide can show you and your dog the secret local spots you might otherwise overlook. Free Walking Tour in a city near you
2. Go for a run or jog together
Parks and towns are not just for walking, so lace up, leash up and hit the ground running with your pooch by your side. It's easy to get started as a lone pair, or visit your local FREE park run to join in the fun with other runners and furry friends. Please be wary of the weather and do not take your dog out in hot weather.
3. Explore a National Park
Planning a day out exploring the countryside? Take your dog with you! The UK's 15 National Parks are some of our most breath-taking and treasured landscapes, and offer endless opportunities for quality time with your canine companion.
4. Go to an English Heritage or National Trust site
There's a huge variety of dog friendly places to visit, as well as dog friendly days out at parks, castles, abbeys and historic gardens across the UK. Check out the English Heritage or National Trust websites to see a full list of places you can go!
For the ultimate list of dog-friendly places to visit, take a look on the Dog Friendly website, which is the UKs largest database of dog friendly places to visit, eat and services.
5. Meet friends for canine playdates
Does your dog have some dog friends? Invite them over to your house or to the park for some playtime! This way, you'll get the chance to catch up with your friends too – and you'll have one tired dog at the end of the day. Becoming a dog owner is a great way to meet new friends too.
6. Play games at the park
A visit to the park is sure to get your dog's tail wagging! You can play Frisbee, tug or war, fetch, follow the leader, hide and seek – and much more. Not only do games boost communication between you and your pooch, they also help to train your dog in a fun way!
7. Go on a dog friendly holiday
As pet-friendly holiday options continue to grow, it's easier than ever before to take your pet on holiday with you! Websites such as Pets Pyjamas can help you to find UK establishments that love your pet as much as you do. Take a look at the TOP 10 dog friendly holiday destinations in the UK
8. Go to the beach
A day out to the coast is sure to make a happy dog, so why not enjoy a day at the beach and let your dog, sniff, run and frolic in the sand, as well as splash in the sea! It's definitely a fun, active and inexpensive way to spend the day.
9. Go swimming
Head over to your local lake or dog friendly swimming pool and enjoy a day of swimming with your dog.
10. Go to agility or obedience lessons
Teach your dog some new tricks by going to official obedience and agility classes. If your dog gets really good, you could even take part in an agility competition!

11. Enter a dog show
If you own a pedigree dog, dog showing is the most popular canine activity in the country and is a great way to show others why your dog is the best in the world.
12. Go to a dog show or event
There are plenty of fun dog events to visit throughout the year, including Just Dogs Live, Dog Fest, National Pet Show – and many more!
13. Have a photo shoot with your dog
Boost your photography skills with the help of your dog as the main star! Collect the pictures, get them printed and create a keepsake for all the happy memories you create with your dog. What's more – if you fancy your luck at a professional photography competition, you could also enter The Kennel Club's Annual Dog Photographer of the Year competition.
14. Make your dog a social media star
Now you have lots of lovely photos, you could create a social media account for your dog to share your best pictures with your friends and family.
15. Take your dog to work with you
If your workplace is dog friendly, why not bring your four-legged friend into the office for the day? Many scientific studies have concluded the presence of pets can substantially reduce a person's stress level in the workplace. Even better – you could have a chat with your workplace about taking part in Take Your Dog to Work Day! Take Your Dog to Work Day is an annual nationwide event that raises money for charities dedicated to making a difference to the welfare of dogs. Don't forget to give your dog a flashy new job title too – hello, Barking Manager!
16. Start a blog about your dog
In the digital age, what better way to document the memories you make with your dog than to start a blog? You could write about all the adventures you go on together, review pet products, share the latest news in the world of dogs, post about all your favourite dog friendly activities and days out, showcase the best pictures of your dog – and much more! Take a look at some of the best blogs about dogs to get some inspiration
17. Give your dog a massage
Your dog probably loves it when you pet them and rub their belly – but have you considered giving your dog a massage too? Massage can help to reduce stress and anxiety, promote well being and strengthen the bond between you and your dog.
Volunteering can be one of the most rewarding things to do with your dog. You know how much joy and happiness your dog brings to your life, so why not volunteer your dog as a Pets As Therapy Dog? Together, you could visit schools, hospitals or nursing homes to provide comfort and companionship to young, sick or elderly people.
19. Draw or paint your dog's picture
Sitting down with a paintbrush and paper is a lovely way to pass the time with your dog, and a pet portrait is an excellent way to honour your fur baby! Plus – you don't need to be Picasso to do a great job! Painted By You offer customised "Paint By Numbers" based on a photo you supply.
20. Create the perfect garden
Green thumbs everywhere can enjoy some outdoor time with their dog, whilst building up the perfect garden at the same time. However, make sure you're following these tips for a dog friendly garden!

21. Give paddle boarding a try
Stand up paddle boarding with your dog can be great fun. Experience this new and exciting activity in the great outdoors with your furry best friend!
22. Sit and watch the sunrise or sunset
There's nothing more tranquil than sitting back and watching the sunrise, so head out for an early morning walk with your dog and say hello to a new day together.
23. Organise a camping trip
Camping holidays are great, because many campsites allow you to bring your dog along to join in the fun. With beautiful landscapes to discover and plenty of outdoor space to explore, sniff and run around in – your dog will love it!
24. Go shopping at a pet store
Treats, toys, grooming products, beds – a pet store is the perfect place to treat your dog to something new! Take them along to get their approval first hand before buying.
25. Go to a dog friendly pub, café or restaurant
There are hundreds of dog friendly pubs, cafes and restaurants around the UK, who will be happy to welcome you and your furry friend for lunch/drinks. Doggie Pubs can help you find dog friendly pubs near you.
26. Go to an outdoor event
Head over to your local community websites and have a look at what dog friendly events are taking place. Think outdoor movies, fairs, village fetes, farmers markets, parades, dog friendly festivals, car boot sales – and many more!
27. Play with nature's seasonal offerings
One of the easiest things to do with your dog is make use of what the seasons have to offer. Sprinklers, puddles, snow – every season offers something new and exciting for your dog to play in!
28. Go geocaching
Geocaching is a high-tech treasure hunt where players follow global positioning satellite (GPS) coordinates listed on the geocaching Web site in search of a cache (items hidden away for later). Geocaching has grown in popularity on the outdoor activity scene, and your dog can easily tag along! Find out more about geocaching
29. Go on a road trip to a new town or city
The world is your oyster and goes way beyond your local towns and villages. Hit the road with your canine companion and see what a new place can offer you! Before you go, make sure you look into what local dog friendly days out and activities are available so you spend your time wisely.
30. Ride on a boat, canoe or kayak ride
There is lots to explore at your local lake, so why not take to the water and enjoy the scenic views with your dog? They will be captain of the kayak in no time!

31. Visit a farm
Bring your dog along to explore your local farm and see the chickens, cows and pigs!
32. Practice clicker training
Clicker training involves using a small ticker device that produces a distinct sound, in order to train your dog to associate reward with specific good behaviour.
33. Go for a picnic
Whether it's at the local park, beach or even in your garden – one of the most Summery things to do with your dog is relaxing with an afternoon picnic!
34. Throw your dog a party
Is your dog's birthday coming up? Celebrate in style by throwing a birthday bash for them! You can invite your fellow dog owners and their pups, come up with party games, have some fun and even make a cake (for human guests only!)
35. Do some dog-themed baking
You don't need an excuse to spoil your dog, so why not make some homemade pup-cakes or fun doggie treats? Just make sure that if you're baking for your dog, that you follow dog friendly recipes and use ingredients that are safe for canine consumption
36. Improve your canine knowledge
If you're passionate about dog welfare, have you considered going back to college and studying a qualification? From grooming and CPR, to dog walking and canine behaviour – there are lots of short courses you could try. You never know, you could end up starting a new career working with dogs!
37. Read with your dog
There's nothing better than curling up in a comfy chair with a good book and immersing yourself into a new world, and it's one of the simplest things to do with your dog.
38. Watch a TV show or film together
A rainy day wouldn't be completed without a few hours spent snuggled up on the sofa, watching your favourite movies. What's more – the dog themed films and shows available on Netflix are endless!
39. Organise an event for charity
Organising a dog-themed charity event is a great way for you to spend time with your pet as well as do something good for your community. You could organise a charity dog walk, make and sell your own doggie treats, host your own fun dog competition – and much more.
40. Visit the vets
Not all dogs enjoy heading to the vets, but it's really important they get regular checks ups to ensure they remain happy and healthy. You can make the experience more fun by building up comfort with social calls if needed, and head out for some fun activities and walks afterwards.

41. Go to the dog groomers
Treat your dog to a pamper at your local dog grooming salon. The College of Animal Welfare offers dog grooming services at its centres in Leeds and Huntingdon.
42. Play flyball
Any dog who likes to chase a ball will take to flyball naturally – the relay race requires a dog to race over four hurdles, catch a tennis ball that has been released from a spring-loaded launcher, and then race back over the hurdles again. It's a great way for your dog to burn up excess energy.
43. Have a go at Nose Work
Nose Work is an up-and-coming canine sport which is suitable for all kinds of dogs, including dogs with disabilities or behavioural problems. Similar to search and rescue work carried out by professional detection dogs, this sport involves the dog seeking out and finding different scents hidden in various environments, both indoors and outside. Teams are made up of one dog and one handler, which means nose work is a great way to bond with your dog.
44. Boost your trick training
Who says you can't teach an old dog new tricks? Teaching tricks is a great way to spend time with your dog. You can teach anything from the "basics" – sit, down, stay, wait, coming when called and walking on a loose leash – to more advanced and unusual tricks such as leg weaving, roll over and walking backwards.
45. Canicross
Canicross is the sport of cross-country running with dogs. The human drives the dog by directing them from behind with voice commands. Canicross is not only is a great method to get a human and a canine fit but works the dog's mind and allows them to use their brain in a work mode. Taking part in dog sports usually means you and your dog get to socialise with likeminded people but even if it's just you and your dog, you will be strengthening your bond with your dog which is very rewarding and great fun too.
46. Try Doga
Doga is a human yoga practice that helps support the natural bond we have with our dogs.
47. Play interactive games
Interactive games such as treat and puzzle games provide mental stimulation for your dog and can help cut down on problem behaviours such as excessive chewing or barking.
48. Attend a breed specific meet up
Breed-specific dog meetups offer dogs and their owners fun and camaraderie. Plus – the shared experience of owning the same breed of dog will offer lots of common ground to build on!
49. Enrol in a dog activity group
There are lots of different activity groups that you could get involved in, including walking and dog playgroups. Don't worry if your dog is new to the scene, as the majority of groups will welcome newbies! Not only is this a great way to meet new dog owners, but your furry friend will get to interact with other dogs too. Check out the MeetUp website for local dog activity groups near you
50. Take a nap with your dog
Having a nap with your dog will help to ease stress and anxiety. Plus – there's no one in the world that your dog loves more than you, so that little bit of extra snuggle time will make their day!
And finally…
51. Appreciate your dog
Be thankful that you have your dog by your side, because they will love you unconditionally, make you laugh with their goofy habits, and most importantly – remind you to find joy in the simple things.